The under-the-radar stylist is stealthfully working his magic on pop culture's most stylish women.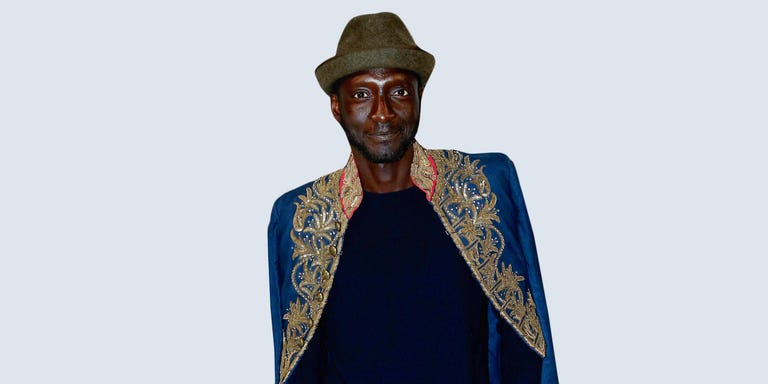 Jenke Ahmed Tailly is one of the most influential stylists working today. And you've probably never heard of him. Which, as it turns out, is precisely how he likes it.
"I like to do my work quietly," says Tailly, a fashion editor, stylist, and consultant who works with Kanye West, Beyoncé, and most recently, Kim Kardashian. "I don't really like to put myself at the front." In an age where stylists often share the spotlight alongside celebrities—booking lucrative hosting gigs and cultivating robust social media followings—Tailly is becoming an increasingly rare breed. "I only just joined Instagram recently," says Tailly. "All of my friends were yelling at me because I haven't posted anything yet or accepted any followers."
But Tailly is reassuring proof that you don't need to be a skilled self-promoter to make it big in the fashion industry. The stylist, who is Ivorian and Senegalese and now splits his time between Paris and New York, says he always found fashion "fascinating," and credits his stylish mother with inspiring his sense of style. "Fashion was part of the culture I grew up with," says Tailly. Though he may have been interested in fashion from a young age, Tailly's path to success wasn't exactly a straight line: He went to school for marketing, and worked retail jobs on the side at Barney's and Chanel. Next came a two-year stint as a model (he was shot by the legendary Annie Leibovitz), and then a few years spent, alternatively, as a marketing director, fashion editor, and stylist. But his big break came in 2011, when L'Officiel Paris asked him to help style and creative direct their 90th Anniversary issue. "I told them I wanted to put a black girl on the cover," says Tailly. "After 90 years, they only had two black girls on the cover, and I said I would really like the future to be more diverse. We were thinking Halle Berry or Beyoncé. And I said, maybe I can get Beyonce to do it because I am really good friends with her husband's lawyer." Surprisingly, the tenuous connection worked: "I sent my idea to Bey and she loved it," says Tailly.
The shoot was a success, though it wasn't without its controversy—one of the images, in which Beyoncé's face is darkened, prompted some to criticize the magazine for what they perceived to be blackface. Tailly was undaunted. "She is portraying a Moor queen and they wore face paint," explains Tailly. "This is part of our African heritage. It's not blackface."
Promoting diversity in the fashion industry is a cause close to Tailly's heart. "I'm flabbergasted when I go to a fashion show and I don't see a black model or an Indian model or an Asian model or anyone of color in the front row," says Tailly. "It's 2015, brands should take the memo. The buying power of those minorities is enormous—why are we still not represented enough?" While fashion is slowly becoming more diverse, it's still remarkably white-washed—and one reason for the glacial pace, posits Tailly, is that the focus has solely been on changing front-facing fashion professionals (ie. models) rather than the industry as a whole. "The more diverse people working behind the scenes in fashion who have the power to book models, the more diverse faces we're likely to see in magazines," says Tailly. "As a black person, when I collaborate with a magazine, I'm more likely to want to book a black model. It's a delicate subject but I think it's natural to gravitate towards a model that looks like you, that you can relate to. So if you're blond-haired and blue-eyed, you're probably more likely to book a model that looks like that too."
Tailly's passion for celebrating diverse beauty, and his knack for creating strong, impactful looks, impressed Beyoncé, who asked him to become her creative director shortly after the shoot. "It felt natural because I wasn't campaigning for any kind of job," says Tailly of the unexpected proposition. "I just wanted to create a beautiful shoot." The two collaborated for three years, including on her influential fourth album 4, before amicably parting ways. "We're still friends," says Tailly. "But I needed to be freelance again."
It was during his tenure as Beyoncé's creative director that he met and fell in with his next big-name clients: Kanye West and later, his wife Kim Kardashian West, whom he now regularly styles. "I started working with her after I met her and realized she is such a lovely person," says Tailly, who is responsible for putting Kardashian-West in that super-chic-yet-flammable Proenza Schouler number for the CFDAs. "Being African, I particularly find her body proportions so beautiful. But also, like Beyoncé, Kim is a perfect example of a person who is so internally beautiful, with such great values and work ethic."
Tailly takes styling his celebrity clients very seriously, and is dedicated to making sure each persona is captured in every look. "With Kim, every time we work together we discuss, we meet," explains Tailly, of his process. "It's really important to me to really understand the subject I'm working for. I need to understand who you are, what you like, what kind of a woman you want to be, and with Kim, it's: how do you move the woman power narrative forward? I'll also ask: what's your favorite movie? What books do you read?" Then Tailly begins his research, which might have him examining the evolution of women's dress codes or "finding out what Simone de Beauvoir wore when she wrote The Second Sex." He and his team assess all of this information and disparate influences and create mood boards to further define what kind of woman they're after. Only then do they look at the collections to see what items and silhouettes might fit.
As for Kanye West's reputed role in Kim's sophisticated style makeover, Tailly says he's not as involved as everyone thinks. "People think he dictates what she wears, but that's not the case," says Tailly. "I think the person she loves to please first is her husband. So his opinion does matter—he might suggest something or give us an opinion about something we're not sure about—but she knows what she likes."
"And she knows what her husband likes," he adds.
Source: https://www.elle.com/fashion/a29091/kim-kardashian-stylist-jenke-ahmed-tailly-profile/
http://www.radarrecruitment.co.tz/wp-content/uploads/2018/05/elle-jenke.jpg
490
980
Godwin
http://www.radarrecruitment.co.tz/wp-content/uploads/2018/01/radar-lmited.png
Godwin
2018-05-02 08:57:57
2018-05-02 08:58:11
Meet Beyoncé and Kim Kardashian's Secret Weapon: Jenke Ahmed Tailly